Our Services
No two clients are alike. That's why we have created a four-step process to ensure a perfect fit.
Our Case Managers

We currently employ a gerontologist and a registered nurse as case managers.
Case Manager Home Visit

We schedule a convenient home visit to assess your loved one's needs.

Plan of Care

We present a written plan of care. All hours, services and fees are outlined clearly.

Caregiver Match

We recommend a choice of 2-3 caregivers. You choose the one that best matches your loved one's needs.

Case Manager Visits

We visit periodically (via phone and in person) to personally assess your loved one's case, and modify the level of care if necessary.
Our Caregivers
All of our caregivers/home care aides are employees, registered with the State of California, and experienced in home care. We also have Certified Nurses Assistants, Certified Home Health Aides, and retired LVN's and RN's employed as caregivers. Our caregivers/home care aides are:
Thoroughly trained in areas of responsibility, safety in the home, fall prevention, emergency preparedness, assisting with activities of daily living and personal care, communication skills, and transporting an older adult.
Alzheimer's and Dementia trained, in conjunction with Alzheimer's Orange County. This training includes the stages of dementia, behavioral changes, communication skills and tips to handle activities of daily living.
Screened and background checked through LiveScan with FBI and DOJ Clearance.
Bonded.
E-Verify with the Department of Homeland Security.
Covered by Workers' Compensation insurance.
Covered by Professional Liability insurance.
English speaking. Many are multilingual.
Licensed drivers with verified auto insurance.
Drug/TB tested.
Caregiver qualifications vary by state due to licensing regulations. Please contact your local office for more information.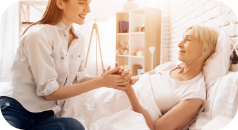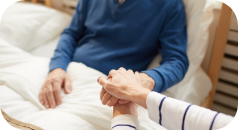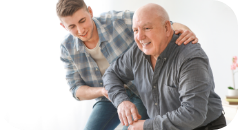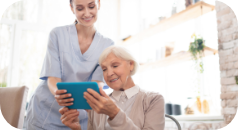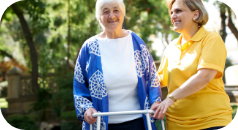 Alzheimer's & Dementia Care
Answering Telephone
Arranging Medical Appointments
Baby Sitting
Bathing / Showering
Bill Payment
Changing Linens
Clothes Shopping
Communicating with Family Members
Companionship
Correspondence
Dressing / Undressing
Dusting & Vacuuming
Errands & Appointments
Escorting to Lunch / Dinner
Escorting to Movies / Plays
Escorting to Religious Services
Escorting to Senior Centers
Hospital & Rehab. Discharge Assistance
Incontinent Care
Laundry / Ironing
LGBTQ Services
Maintaining Calendars & Appointments
Making Beds
Meal Preparation / Clean Up
Medication Reminders
Nighttime Care
Ordering Health Supplies
Organizing Mail
Personal Hygiene
Picking up Dry Cleaning
Picking up Prescriptions
Playing Games
Preparing Grocery Lists / Shopping
Range of Motion Exercises
Reading
Reminiscing
Respite Care
Shampooing & Brushing Hair
Socializing and Activities
Sponge Baths
Stand By Bathing Assistance
Taking out Garbage
Transportation
Traveling Companions
Walking & Mobility Assistance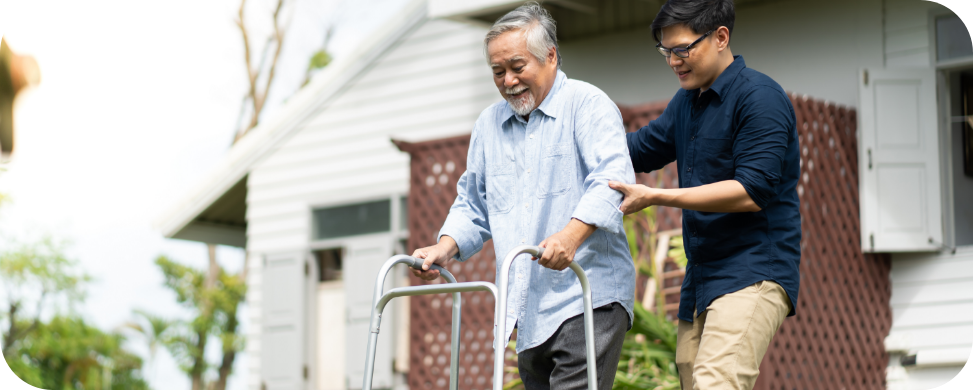 Initiating Contact With Home Health Service Providers
While Caring Companions At Home does not provide Home Health services to our clients, we work closely with local home health agencies that can provide our clients with treatment such as physical therapy, assistance with injections, and wound care. If you or your loved one require assistance in any of these areas, we are happy to facilitate contact between you and qualified health care professionals.
Outside Home Health services may include:
Observation and Assessment
Patient & Caregiver Teaching on Disease Management
Diabetes Education & Management
Wound Care Management
Medication Management (IV and IM Meds)
Drainage Tubes and / or Foley Catheters
Pain Management
Ostomy Care and Instruction
Care of Central Venous Catheters
Chronic Obstructive Pulmonary Disease (COPD) Management
Hypertension (High Blood Pressure) Management
Dementia / Alzheimer's Disease Management
Congestive Heart Failure (CHF) Management
Coronary Artery Disease (CAD) Management
Parkinson's Disease Management
Psychiatric Evaluation, Therapy, and Teaching
Patient Education
Physical Therapy
Occupational Therapy
Speech & Language Pathology Therapy
Initiating Contact With Hospice Facilities
While Caring Companions At Home does not provide Hospice services to our clients, we work closely with Hospice facilities that will provide compassionate, individualized care for patients and their families. We will help our client find a Hospice facility that provides patients and their families with pain and symptom management, as well as psychological and spiritual support so that our clients can have peace, comfort and dignity.
Outside Hospice facility services may include:
A nurse practitioner on-call 24 hours a day.
Palliative care for pain control
Symptom management for comfort
Counseling and bereavement for patients and family
Assist with memorial preparations
Education for family regarding patient care and what to expect
Prescription medications, medical equipment, and supplies related to the terminal diagnosis
Assistance with insurance paperwork and other matters of financial concern
A dietician to assess nutritional needs, provide information and implement a nutritional program
Therapists to assess physical or communication needs
Additional services that may be required to serve any individual patient