How to Find the Right In-Home Care Agency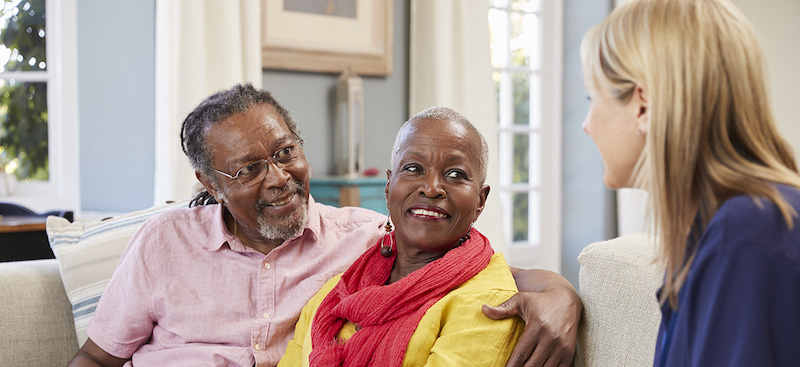 There's no doubt that finding in-home care for elderly loved ones is a process. Begin your search by identifying your home care needs and determining the level of care that's required. To do this, it is important to understand the two basic levels of in-home care services: home health care and non-medical home care.
There are many similarities between home health agencies and in-home care agencies, but this guide focuses on the process of hiring non-medical in-home care services that are paid for privately. Once you have a general idea of what services you and your loved one would benefit from, you can begin contacting providers in your area to conduct interviews, get a feel for the staff, and gather information from the categories below.
Request Cost Information
The first question most families ask when contacting a provider is, "How much do you charge?" There is a great deal of information that must be exchanged during an initial phone call or consultation. Since in-home care services are personalized for each client, an accurate quote is based on all these details. Companies should provide a range of hourly rates for reference and begin a conversation to learn more about the care recipient and their unique care needs.
Neither the company nor the caller wants any surprises when it comes to determining rates. It's best to leave your cost estimate for the very end of your fact-finding phone call or wait to get a more accurate rate during the in-home assessment. Instead, ask about general policies regarding payment and billing.
Inquire as to hourly rates and how those rates vary depending on services needed and caregiver qualifications/training.
Find out how frequently the company bills.
Determine whether they accept credit cards or require a deposit for services.
If applicable, ask if the company accepts long-term care insurance and whether they will bill the insurance company directly or require you to pay upfront and then seek reimbursement.
Ask About Time Minimums
Within the cost analysis, be aware that different levels of care require differing amounts of service, which is measured in hours.
Many companies set a minimum hourly requirement for home visits—usually between two to four hours. Even if a client only needs approximately one hour of care on a particular day, they will likely be subject to paying for the minimum hourly requirement to schedule services.
Be sure to address the following points to establish a realistic care schedule:
Work with the provider to evaluate how many hours of care you need.
Inquire about hourly minimums per visit.
Determine the process for adjusting care hours to meet changing needs.
Find out if adjusting the number of hours will require a change in the caregiver(s) assigned to you.
Understand the Types of In-Home Care Companies
The size, composition, ownership, and business models of in-home care agencies vary widely. Generally, these businesses operate under two models: franchise or independent ownership. Each has pros and cons.
Franchised agencies often have a more widely recognized reputation due to established marketing and advertising plans, and franchisees may rely on the franchisor for policy and procedure decisions, pricing recommendations, and staff training programs. Alternatively, independent operators establish their own policies and procedures, pricing structure, and training processes.
Ask how long the agency has been providing care in your community. Your final decision relies heavily on the contact you have with a company's employees and your overall impression of how the business operates.
Determine who owns the company and how long the current owner has been in place.
Look for consistency in answers to your procedural questions between people throughout the company.
Verify That the In-Home Care Agency Is Licensed, Bonded & Insured
Licensing
Licensing laws vary by state. If you are seeking in-home care services in a state that requires licensing, any companies you are considering should be operating legally and have their paperwork in order. States that require licensing typically offer an online facility/provider database where you can look up license status, inspection and/or investigation results, and complaints. For example, consumers in California can use cdss.ca.gov to find information that the Agency is licensed to provide care.
Bonding
Home care companies often "bond" their employees as a means of covering themselves in case a client reports an instance of caregiver theft. Bonding functions as insurance for the company and provides peace of mind for you. This is not a foolproof method of protecting consumers, but it does serve as an indicator of a company's commitment to its clients.
Ask if the company has bonded its employees and the value at which they are bonded.
Insurance
Every business should have insurance coverage in place.
Request a copy of the company's "insurance declaration page" as proof of coverage.
Inquire About Certification and Accreditation
There are various certifications and accreditations that home care agencies and their employees can voluntarily pursue. Any agency that has gone through the process of accreditation demonstrates a strong commitment to high-quality care.
Ask what certifications and/or accreditations the company and its caregivers hold and who provided them.
Request Information on Caregiver Hiring and Training Procedures
In-home care agencies should establish education and credential requirements for their professional caregivers and conduct background checks and drug screenings as part of the hiring process.
Caregiver Training and Education
In most states, there are no education or training requirements for providing non-medical in-home care services, such as companionship, light housekeeping, and transportation for appointments and errands.
Determine what in-house training is provided to the different levels of caregivers within the company and how their proficiency is assessed.
Ask who provides the training.
Find out if your state requires a specific amount of ongoing education and/or workshops each year.
Ask the provider what they require on an ongoing basis as the mandatory minimum to keep their employees' skills sharp.
Background Checks
Each state sets its own rules for running background checks on health care workers like certified nursing assistants (CNAs) and HHAs. Even in states that do not mandate background checks, many companies will conduct their own statewide or nationwide checks before hiring. In-home care agencies may also contact their state's registry to verify the prospective employee's licensing/certification status and check for existing complaints.
Ask the company how they vet employees.
Are all employees subject to the same standards? (For example, are our office staff members also required to pass a background check?)
Determine if the company runs a nationwide criminal search, countywide search, drug screening, and/or credit check for new employees.
Find out how often criminal searches are repeated on existing employees.
Ask About Care Management Procedures
Learn the details of the process the in-home care company uses to get acquainted with a new client, assign caregivers, begin services, and manage their ongoing care.
Care Planning
A care plan is an organized, customizable schedule of services for a client that the company can regulate, and family members can follow along with. In states that require in-home care companies to obtain licenses, care plan development is mandatory for every client.
Ask if the agency creates plans of care, how frequently they are reviewed and updated, and if they conduct regular quality assurance checks.
Be prepared to answer leading questions about the care recipient's health conditions and daily challenges and needs. This will allow a Case Manager to determine which services would be a good fit and how often they will be needed to improve and maintain the recipient's quality of life. You must provide as much information as possible and refrain from holding back any details.
Any problems with or alterations to an existing care plan should always be directed to the head of staffing, such as a Case Manager, or in the case of smaller in-home care agencies, the owner.
Ask how the provider handles changes in health and the level of care needed.
Caregiver Selection
The initial assessment process also helps the agency determine which caregiver(s) would be the best fit for a client's situation. During this meeting, it is important to communicate your needs and who you are comfortable with having in your home. Caregiver preferences can be difficult to discuss, but they are an important part of making sure your in-home care experience is a successful one.
For example, if your loved one has Alzheimer's disease, an in-home care company should narrow down your selection to caregivers who are experienced and trained in dementia care. Furthermore, some clients are more comfortable with caregivers of a specific gender or require someone who speaks a language other than English.
Some companies also offer interviews with selected caregivers after the initial assessment and before services begin. This ensures their skills and personality will be a good match with the person receiving care.
Communication With Family Caregivers
Initiating a clear communication plan with the company is an important part of monitoring a loved one's care. Typically, the individual paying for in-home care services can dictate who can receive updates and who is off-limits.
Ask about policies for communicating with you and other interested parties.
Some companies also offer electronic communication and regular reports on care. This can be especially helpful for long-distance family members who are intent on monitoring their loved ones from afar and making sure the services are worthwhile.
Ask about additional costs if care reports are something you are interested in.
Inquire About After-Hours and Emergency Calls
Identify how an agency handles special circumstances and who is responsible for making sure these calls are returned and acted on.
Ask how the company handles changes in care needs on short notice or when something happens after the office has closed.
Determine if the emergency procedure is acceptable to you and find out if extra charges are incurred in these instances.
Review Caregiver Policies and Procedures
Every company should have policies in place stating that complaints, caregiver changes, schedule changes, and other issues are to be handled internally.
Specific procedures regarding provider issues and staff contact information should be outlined in the service agreement.
Ask how to file a complaint and what the procedure is for investigation and resolution.
In the event of an unexpected absence (no-show), question how a temporary caregiver is assigned.
Verify the process for making a schedule change.
Ask how to formally request a new caregiver.
Ask how far in advance you need to request a schedule change or cancel a visit. Are there any fees associated with these changes if advance notice is not given?
Check the In-home Care Company's Reputation
Do some research to verify the reputations of local home care companies by asking your medical provider, neighbors, religious leader, friends, coworkers, an elder law attorney, a financial advisor, or anyone you trust about their experiences with hiring in-home care.
If you don't know anyone who has previously hired these services, consumer reviews and ratings are another way to learn about others' experiences with specific companies in your area.
There are several ways people can get referrals, but if you've found a company that fits your needs and has a great reputation around town, that is key in establishing trust and making a confident decision.
For a free in-home assessment for a loved one please contact Caring Companions At Home at 888-950-0750.