Celebrating Easter with Aging Parents or Relatives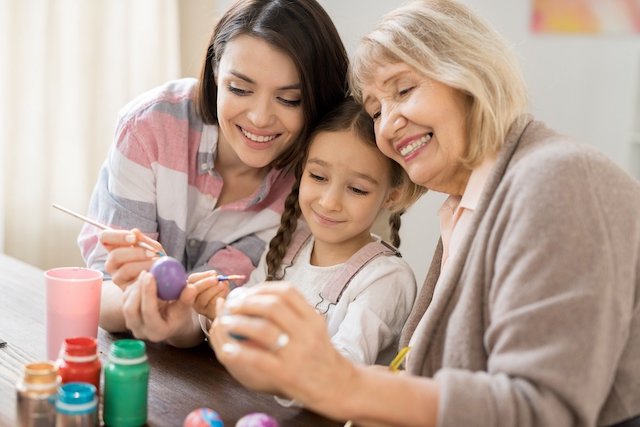 The holidays are special for many reasons, but most importantly, they allow us to catch up with family. They are especially helpful in allowing us to visit aging parents or relatives who may need that extra care and attention. This may be a time to address some issues, check on their health, or simply spend some quality time together.
Here are some Easter activities for seniors you can do to make the holiday a memorable one.
COOK OR BAKE TOGETHER
Cooking a special Easter lunch or baking some treats for the occasion are some of the quintessential Easter activities for families. Doing things in the kitchen together is always a great way to show that you care and spend quality time with each other. Plan this according to your loved one's abilities, and don't forget to assist when needed.
WATCH A MOVIE TOGETHER WITH THE ENTIRE FAMILY
The holidays can be the perfect opportunity to get the family together, and the seniors will love having the grandchildren involved. Whether it's going out to the cinema or turning the living room into a family theatre, they will love watching a golden classic together with the family.
ARRANGE SOME EASTER ACTIVITIES THEY CAN DO WITH THE GRANDKIDS
Getting the kids involved is the best thing you can do for grandparents. They can get together to make Easter decorations, have an Easter egg hunt, paint Easter eggs or play Easter games for seniors. Make sure to tweak the activities according to the ability level of your loved one.
HELP THEM WITH ODD JOBS AROUND THEIR HOME THAT THEY CAN'T GET ROUND TO DOING THEMSELVES
This may be a great time to help your loved one finish some odd jobs around the house that they're not quite able to do by themselves. Whether it's fixing that leaky faucet, weeding the garden, organizing the pantry, or making necessary appointments, your loved one will appreciate the help and feel cared for and loved.
MAKE SOME HOME SAFETY AND CONVENIENCE UPDATES
If your loved one is living alone, this may be a great time to survey the house and see if an upgrade is needed with its safety and convenience features. This can be an excellent time to change uneven flooring or add non-slip tiling. You can even install automated lighting and handlebars and even think of a bathroom overhaul to make it safer. When it comes to convenience, your loved one may appreciate some automated features around the house or even smart home devices that make daily tasks easier to perform.
The Easter Holidays are the perfect time to make special memories with your loved one, no matter what you choose to do. Whether it's going shopping together, creating a scrapbook, listening to their favorite music, going on a picnic, going through old family albums together, or even just chatting away, your loved one will appreciate the time spent with family.